Have you remembered the last time we posted about our new office? Well, it took us some time to give you an update about it. But don't you worry, everything is already set now and we're very excited to take you a tour to it!
Last March, we have let you sneak a peek of our office unit here in Petron Megaplaza. If you will remember, it was bare and have really no life to it. But after all the hard work of the construction team and especially our employees, it was now full of life and very functional.
When you enter our office, you will be welcomed by our beautiful logo situated in a black wall with a shiny finished letters. From our normal sticker logo in front of our office before, it is already made of steel and has its own space and lights. Amazing, right?
Upon entering, you will be greeted by employees seated at the work space where all the magic happens — projects and tasks were all done here by each of everyone.
See the Makati Skyline? That is what we really love in our new office — the breathtaking view that helps you ease out your stress on a very tiring day.
On the right side of our work space, there is the meeting room. This is the space that we are really excited about since we do not have a meeting room before in our first office. We really had a hard time before when there is a special meeting to be held especially if it is confidential and very serious to talk about. Imagine, we still need to go to the canteen for it to be settled? It was really hard for us for whenever we left the canteen, the smell of it stays in you throughout the day. Who would want to experience that, right? And also, we can now hold our meetings privately and peacefully without worrying that you will be heard.
Here is another view of our work space from a different perspective if ever you are wondering:
Let us just go back from the view that we are talking about earlier. In the afternoon, it is also best to view here the sunset which looked like it was hiding in the SM Jazz Residences.  Very stunning, indeed! Kudos to our colleague — Mr. Joshua Molinas for capturing this momentous event in our daily lives.
Before this blog ends, we would like to take the opportunity to thank the Leopalace21 and Mr. Manami for lending us their beautiful serviced office in the Insular Life Building. We had a very memorable time there for all the staffs are very hospitable and very easy to approach. For all you know, Leopalace21 has been our home for two months when our new office here in Petron Megaplaza is still under construction and when the permits are still on process. We're very grateful that we chose to stay in their serviced office for it is very functional and they have free coffees, too! *wink*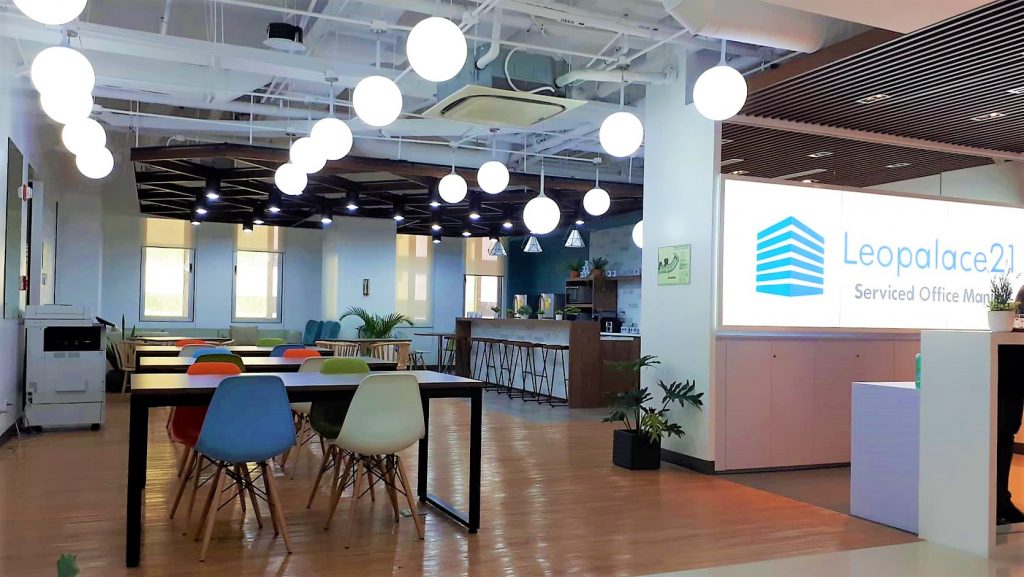 To end up this blog, I have just realized that no matter where we go, no matter where we stay, our dedication and passion stays with us. To prove this, I have been a living witness on how Commude Philippines, Inc. grow as a company — from 4 employees up to 26 on this year and from 75 sq.m to 209 sq.m of office space in just 2 and a half years! Amazing, right? Of course, we have experienced heartbreaks in this journey but those did not hinder our growth — instead, it made us strong and very much confident now to set our goals and make it a reality.
Moreover, we would like to thank you all for the support and you may not get tired of showing your love to us. Cheers!